Bite-Sized Tips To Avoid Financial Pressure From Ravaging Cancer Treatment Medical Bills
It's a question almost everyone asks: "How am I going to pay for cancer treatment?"
When you have a cancer diagnosed and decide to pursue a natural or integrative protocol, traditional insurance policies may not cover the cost of treatments.
In this case, there are options to help ensure that everyday financial responsibilities do not become overwhelming.
Big picture, there are different types of costs related to your care.
The type cancer treatment, travel costs to see the doctor, food, lodging, medications. It's important to carefully budget for the assistance you may need.
Also, watch out carefully; your daily life is changing and this will be a long-term battle physically, emotionally, and financially.
This article takes the guess work out of finding a treatment clinic with verified clinics.
We encourage cancer patients to consult with a medical doctor before beginning any cancer protocol.
Orthodox medicine treats patients they should never have treated in the first place. They do procedures which often do more harm than good.
Furthermore, health insurance policies do not cover the more effective and less expensive natural medicine cancer treatments.
The good news is that there are many effective cancer treatments that are inexpensive.
Given the complexity of treating a cancer patient who has been sent home to die, the best natural medicine treatments and clinics come with expert support and are relatively expensive, for example, the Cellect-Budwig with High RF Frequency Generator protocol.
However, if insurance does not cover the cost of your treatments, there are several national and local organizations that help people with cancer who are facing financial challenges.
Funding strategies for cancer treatment
Frankly, for various reasons, almost all natural or integrative health care professionals do not accept medical insurance. However, there are ways to pay for natural or integrative treatments.
We have seen patients use a variety of strategies to pay for treatments. Sometimes it's one or a combination of these:
Home Mortgage
For those owning a home, taking a home mortgage seems to be a significant way to obtain funds to pay for treatments.
As one person put it, "It's my home, I'm paying for it and if it can help me now to remain living in it, why not? If I pass away it won't matter anymore anyway."
Financing Cancer Treatment
Some patients opt to use 0 percent or low-interest credit cards to get treatments started. Others use companies that specialize in providing loans for health care, like Care Credit.
It's like a credit card for health care. They have 12-month interest-free options available.
Networking
GoFundMe is an option. Also, patient advocates have held yard sales, bake sales, and other fund-raising events.
There should be no shame on the part of a cancer patient asking for financial help.
No donation is too large or small. All donations are a gift of love.
It's amazing to find that $20 multiplied by so many hands can cover treatment costs.
Many patients are happily surprised to find there are many charitable people just waiting for an opportunity to help. Others seek out foundations or grants for treatments.
We encourage you to research what may be available in your local area.
Health Share Networks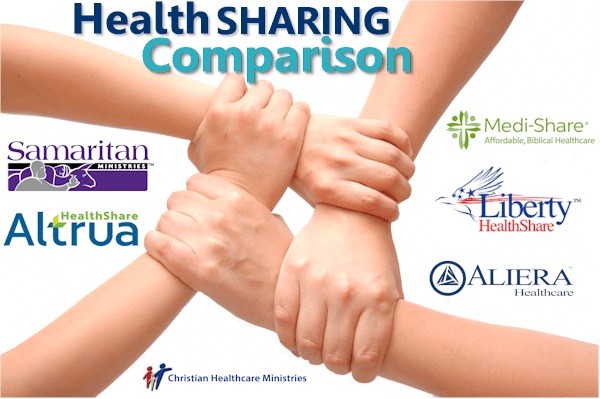 Some already have dumped their medical insurance, learning what doctors know: Medical insurance is sick care, not health care.
Health Share Networks continue to be an exciting ongoing development.
Good decent people committing to pay monthly for the health care of others and vice versa.
Organizations like Samaritan Ministries or Medi-Share have been doing this for more than 20 years with tens of thousands of members paying tens of millions of dollars monthly for health care costs, including the cost of natural or integrative treatments.
These are not medical insurance companies…
You are signing up to pay a portion (share amount) of a member's medical bill and they are doing the same for you. The members are interdependent on each other.
Pre-existing conditions, like cancer, don't qualify to be included with mandatory monthly share amounts. 
Additional sharing options are provided to members wishing to help those with pre-existing needs or needs outside of member guidelines.
That's good news.
The better news is that any new member will have their future medical needs that meet member guidelines paid for by its members.
Keep in mind, unless they have a different policy, your doctor will still require payment at the time of your consultation or cancer treatment.
So any means of payment you use, in essence, would be repaid by you once you receive your monthly share amount.
In the United States, health share networks are excluded from the Affordable Care Act.
Medi-Share is a health care sharing ministry founded on the belief that there is a better way — a Biblical way — to take care of your health care.
A way that focuses on people, not profit. A way that inspires you to live a healthier lifestyle so you can fulfill the plan God has for you.
We are passionate about saving you money so you can use those funds to support your family and further kingdom work.
Medi-Share is an organized way in which Christians share their money to pay for each other's eligible medical bills.
It's accountable – Members vote on the guidelines.
Is deemed as affordable – There's an option for every budget that generally saves members around 50%.
It can be regarded as Biblical – It's modeled after the early church in the Book of Acts where people were of one heart and mind, and shared what they had.
It's community – Members support each other in prayer and come alongside you when you need it most.
Also, your Medi-Share membership gives you zero cost, 24/7 access to tele-health providers and dental and vision discounts.
Samaritan Ministries members generously give to other members with a qualified medical need.
Members send checks, prayers, and notes of encouragement directly to the member in need.
Because we're lifting each other up in prayer in addition to sharing monetary gifts, members can minister to the whole need, including the physical, spiritual, and financial aspects.
Health care sharing is a unique opportunity for members to be the hands and feet of Jesus.
The Samaritan Ministries direct sharing model is a Biblical approach to paying for health care, based on passages like Galatians 6:2, which says "Bear one another's burdens and so fulfil the law of Christ."
Samaritan Ministries members share more than $25 million monthly.
Samaritan Ministries members share directly with one another, every month. Here's a look at how it works:
When a member has been treated for an illness or injury, they collect itemized bills from their doctor and submit them to Samaritan Ministries.
Bills are reviewed to make sure they meet the Guidelines.Then members are assigned to send their shares to the member with the need.
Members send their shares by the 15th of the month so the member with the medical need can pay their bills on time.
Not all the bills come at once, and that's ok! If more bills show up later, a member just sends them to Samaritan Ministries and the process begins again.
Learn more about Samaritan Ministries
Samaritan and Medi-Share allow non-evangelicals, provided they agree with their doctrinally based Statement of Faith.
Samaritan requires the endorsement (signature) of your ecclesiastical leader.
Medi-Share may require such an endorsement.
Additionally, CMF CURO is a Catholic Member-Representative to Samaritan Ministries. Solidarity HealthShare (a Catholic-oriented ministry) is administered by Liberty HealthShare.
All limit or exclude pre-existing conditions to some extent.
Prospective members may be denied entrance, based on each organization's applicable membership requirements or guidelines. See individual websites for details.
In most cases with pre-existing conditions, sharing is initially limited and phased in over time.
Liberty and Medi-Share offer and require provisional programs at additional costs to help members overcome certain conditions.
Medi-Share members can use any doctor/hospital, but the use of network providers increases savings.
Samaritan and Christian Healthcare Ministries require the members to receive the bills and negotiate any possible discounts.
Liberty is billed directly by the provider and handles the re-pricing for the patient.
Medi-Share members' providers submit bills directly to Medi-Share for discounting and processing but members who choose a non-network provider may be responsible for a penalty and won't receive a discount.
None include long-term maintenance drugs. See individual program details for various limitations.
Most associate the sharing of prescription drugs with a medical incident.
The different levels of cancer treatment program options offered by each vary significantly.
However, the top-tier programs provided by these ministries are quite similar.
See individual program details for the distinctions.
Without catastrophic options, most programs have limits from to $125k-$250k per medical incident.
All groups have an enrollment fee ranging from $125 to $200 except Christian Healthcare Ministries.
Sharing Guidelines may vary (specific exceptions, rules, etc). See individual sites for details.
Also: Comparing Samaritan Ministries, Medi-Share, and Christian Healthcare Ministries
Life Insurance for Cancer Treatment
A "viatical settlement" is not a loan. This financial product was designed for terminally ill people, whether from cancer or from some other disease or health condition.
The purpose of this financial product is so that terminally ill people can enjoy the last days of their life.
However, this product can also be used by those who are trying to survive cancer.
Viatical settlements involve the sale of your life insurance policy once you have become chronically or terminally ill.
Depending on your type of life insurance coverage and insurance carrier, you may have certain policy provisions within your life insurance policy that allow for an advance of your death benefit.
This life insurance settlement option should be explored, especially if you need cash to pay for the high cost of care.
In a nutshell, corporations will buy a whole life policy or term life policy, Group policy, FEGLI policy, Universal life policy, or other types of life insurance policies that can be converted into whole life.
Companies will buy these policies, for example, at 50, 70 per cent of the face value of the whole life value.
With this transaction, a cancer patient can receive 50, 70 per cent of the face value of their life insurance policy.
The patient can then afford to spend quality time with their family and friends in any way they wish and/or they can use the money from that insurance policy to try to survive their cancer, such as go to a top clinic or use an expensive home treatment.
Also, not all the person's life insurance policies need to be sold for cancer treatment.
Only the ones needed to cover expenses. The companies will buy any life insurance policy that can be converted into whole life. …
And what can the family do with this money? Anything they want.
While spending more time with the family would justify the transaction, for advanced cancer patients who know about alternative cancer treatment clinics and strong home treatments, they can also use part of this money to try to survive cancer.
But there is another benefit:
The patient's attitude has a lot to do with survival. By spending more time with their family, and doing fun things, they can take their mind off cancer treatment and this will help the chances of survival.
For example, a $15,000 policy (after converting it to whole life) can be converted to fund the Cellect-Budwig Protocol plus High RF Frequency Generator and oscillator amplifier with plasma ray tube.
A $60,000 policy normally gets converted into funds for implementing multiple treatments plus nutritional supplements and foods. For larger policies, they can travel and/or be treated at a clinic and/or use a home treatment.
So, what are the mechanics of this product?
The patient or family contacts a broker that will find them the best price for their life insurance policy;
The broker gets three bids from companies that buy life insurance policies (the choice of these three companies for each situation requires experience and expertise);
The broker then tells the family about the highest bid;
The family can accept or reject the bid.
When you apply for this service there is no obligation to sell your life insurance policy or convert a different policy into a life insurance policy.
It is a family decision as to whether to accept their offer or reject it.
There is nothing to risk if you are interested in getting a quote.
For example, suppose a terminal cancer patient has a $200,000 whole life insurance policy.
The winning bid for that policy is $145,000 (a reasonable amount).
If the family accepts the offer for the cancer treatment, 
…the patient can utilize a powerful home treatment and/or visit a world-class alternative medicine cancer clinic in the United States, Mexico, or anywhere in the world (and the travel that goes with it).
Some clinics are very good at quickly and safely getting rid of cancer cells, and after treating their cancer and/or visiting a clinic, they can take a vacation (and eat healthy while on vacation).
When they get home, a home treatment can be used to "finish-off" cancer and build their immune system.
Building the immune system (i.e. curing cancer) must take place whilst at home because it takes many months to rebuild the immune system.
While every cancer case is different and there are no guarantees the best clinics and home treatments can cure cancer, the time spent with family can more than justify the viatical settlement.
Abacus a strong financial solution
Be aware: Do not turn in your life insurance policy to your life insurance company.
They will only give you a small fraction of what the policy is worth. Also, some brokers of this product take exorbitant commissions without telling you.
In other words, they do not tell you the actual numbers quoted by the companies that buy these products.
Ask questions and research before making a financial decision for your cancer treatment.
There are patients who take out a Reverse Life Insurance policy, also known as life settlements. Life settlements refer to the sale of one's life insurance policy to a third party for an immediate, set sum of money.
One organization offering this is Abacus.
If you have a $75,000 life insurance policy, you may qualify to receive up to 50 per cent of your policy's death benefit today. You will never need to make loan payments or incur out-of-pocket expenses.
Organizations providing Reverse Life Insurance make their money by keeping the balance of your insurance policy upon your passing. Seek professional counsel to determine if this choice is right for you.
Learn more about viaticals, life settlements, life insurance loans
Canadian Life Insurance Policies For Cancer Treatment
This is a note from a reader in Canada about using a life insurance policy in that country to fund a cancer treatment:
We have the so called "Living Benefit" where you can 'cash in' up to half of your life insurance (to a max of $100,000).
If your oncologist has given you 12 months or less to live, you apply to your life insurance company and they send you a cheque (less 1 yrs worth of premiums) to be used for anything you wish.
Not ALL insurance companies do this but MOST do.
We did this a year ago and I had to call the life insurance company and explain my husband is still with us and we need to start paying his premiums again so we don't lose the other half of his life insurance when he eventually does pass.
As soon as you are diagnosed, apply for CPPD (Canada Pension Plan Disability).
Cancer is an automatic acceptance. My husband receives over $800/month AND because we didn't find out about this until 6 months after diagnosis, they went retroactive to when he was diagnosed.
We applied at the end of August and his first cheque was in the bank at the end of October along with the retroactive amount.
In Ontario, if your household is low income, once you qualify for CPPD, look into ODSP (Ontario Disability Support Program).
This program also pays for prescriptions for your dependents and some other health care items.
These include dental and vision care.
Once you have the official diagnose, quit your job and go on EI (Employment Insurance).
This is the sick benefit and they don't refute it because they know the standard treatments kick the heck out of you.
You will have good and bad days and cannot rely on being well enough to go to work.
I believe this is a 'bridge' until you start receiving CPPD or ODSP.
If you opt for CPPD and require a home care nurse (full time, part-time or weekly), or are under the care of a dietician (even monthly visits), you can apply for an ODB (Ontario Drug Benefit) card.
This card pays my husband's prescriptions.
His liquid food source for tube feeding (he can't swallow because of the tumour on the back of his tongue). Contact the CCAC (Community Care Access Centre) for information.
Tax Deduction For Cancer Treatment
Talk with your income tax professional to determine what portion or if your entire treatment amount is tax deductible.
Treatment
Local faith-based churches, synagogues, and mosques may help, sometimes even if the cancer patient is not a member of that organization or religion.
Catholic Charities USA, Jewish Social Services Agency, Lutheran Social Services, and others may offer financial assistance.
Ask about grants to help cover the cost of treatment and other expenses.
There also are national organizations that may help offset costs of treatments:
Housing For Cancer Treatment
If you have to travel to see a doctor for cancer treatment, depending on the protocol, most likely you will need to stay for a few days. If you need help with lodging costs:
Healthcare Hospitality Network — an association of more than 200 non-profit organizations that provide lodging and support services to families and their loved ones who are receiving medical treatment away from home.
Joe's House — non-profit that helps cancer patients and their families find a place to stay when traveling away from home for medical treatment.
Travel
OK, so you have found a clinic — now, how do you get there for the cancer treatment? There are several transportation services that can assist you:
Air Care Alliance — a central listing of free transportation services provided by volunteer pilots and charitable aviation groups.
LifeLine Pilots — volunteer pilots who donate their time and all flight expenses to people in need of free transportation for on-going treatment, diagnosis, and follow-up care.
National Patient Travel Center — information about long-distance travel for cancer patients and their families in need of travel.
Advocacy
Paying for cancer treatment can weigh on your mind.
The time to spend ensuring the bills get paid always runs short, while focusing on your health. But you must do it! If you need help charting a course:
Patient Access Network Foundation — focused on ensuring under insured patients living with life-threatening,chronic and rare diseases get the financial assistance they need.
Patient Advocate Foundation — provides patients with arbitration, mediation and negotiation to settle issues with access to care, medical debt, and job retention related to their illness.
Do your homework
Before talking with a doctor, a financial rep, or anyone associated with your health care, prepare for the meeting:
Write down your questions before the appointment.
Write notes during the conversation or even tape the conversation; most smart phones can record audio.
If you do not understand something, ask a follow-up question or for a clearer explanation.
It is your right to seek a second opinion. In fact, you should seek a second opinion!
Research what a doctor, a financial rep, or anyone associated with your health care tells you.